Description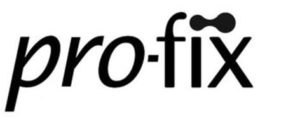 Pro-fix­­® Membrane Fixation Screws are designed as an attractive alternative to using tacks for membrane stabilisation. Easy pick-up, solid stability of the screw during transfer to the surgical site, and easy placement make membrane fixation fast and easy.
– 1.5mm x 3.0mm size is designed specifically for securing membranes and mesh.
– The self-drilling design of each screw allows penetration through cortical bone without the use of a mallet or the need for drilling pilot holes.
Pro-fix® Tenting Screws are designed with a self-drilling tip, polished neck, and broader head to maintain space under resorbable and non-resorbable membranes in horizontal and vertical bone regeneration procedures.
– 3.5 mm diameter head provides broad surface area to help prevent membrane perforation or tearing.
– Tenting screws are available with a 3 mm, 4 mm or 5 mm polished neck for precise space maintenance.
– 4 mm threaded portion of each screw ensures stability
Pro-fix® Bone Fixation Screws are designed with finer pitched, self-tapping threads that give the screws greater clamping force while using less driver torque. The screws' threads are equipped with a cutting flute that allows for easier insertion into harder bone. The screws are placed into a 1.2 mm pre-drilled pilot hole.
– Head design allows screw to be screwed down flush to bone surface leaving no gap between the screw's head and the bone
– Fine pitched threads give screw greater clamping force while using less driver torque
– Bone Fixation screws are available in 8 mm, 10 mm, 12 mm and 14 mm lengths.
The Pro-Fix® cruciform driver blade fits securely into the head of the screw and provides excellent screw stability upon placement.