Description
Why Use MINI Aer?
The Superior Choice in small-scale air purification.
The MiniAer Small Space Plug-In purifier is unsurpassed in quality, efficiency and effectiveness.
The incredibly efficient Mini Aer uses minimal energy to make a powerful impact.
MINI Aer works easily to reduce odors, mold, bacteria, viruses and allergens.
Travel with the conveniently portable Mini Aer.
Quickly refresh musty or contaminated hotel rooms, removing impurities and unpleasant smells, and creating a healthier, more pleasant environment in your living space.
High/Low Switch for constant purification or press the large circle for 30 minute quick purification.
Use with a timer or on a constant setting Mini Aer is sure to fit your needs!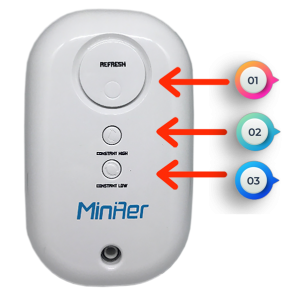 1) Use this button to hit the room with a cleansing "boost" that shuts off after 30 minutes.
2) If you are constantly fighting odors, use this button (boy's room – locker smell).
3) For typical room to suppress "light" odors or smells.