Dr. Samuel Lee: Vertical and Horizontal Bone Augmentation
December 2, 2017 @ 9:00 AM

-

5:00 PM

EST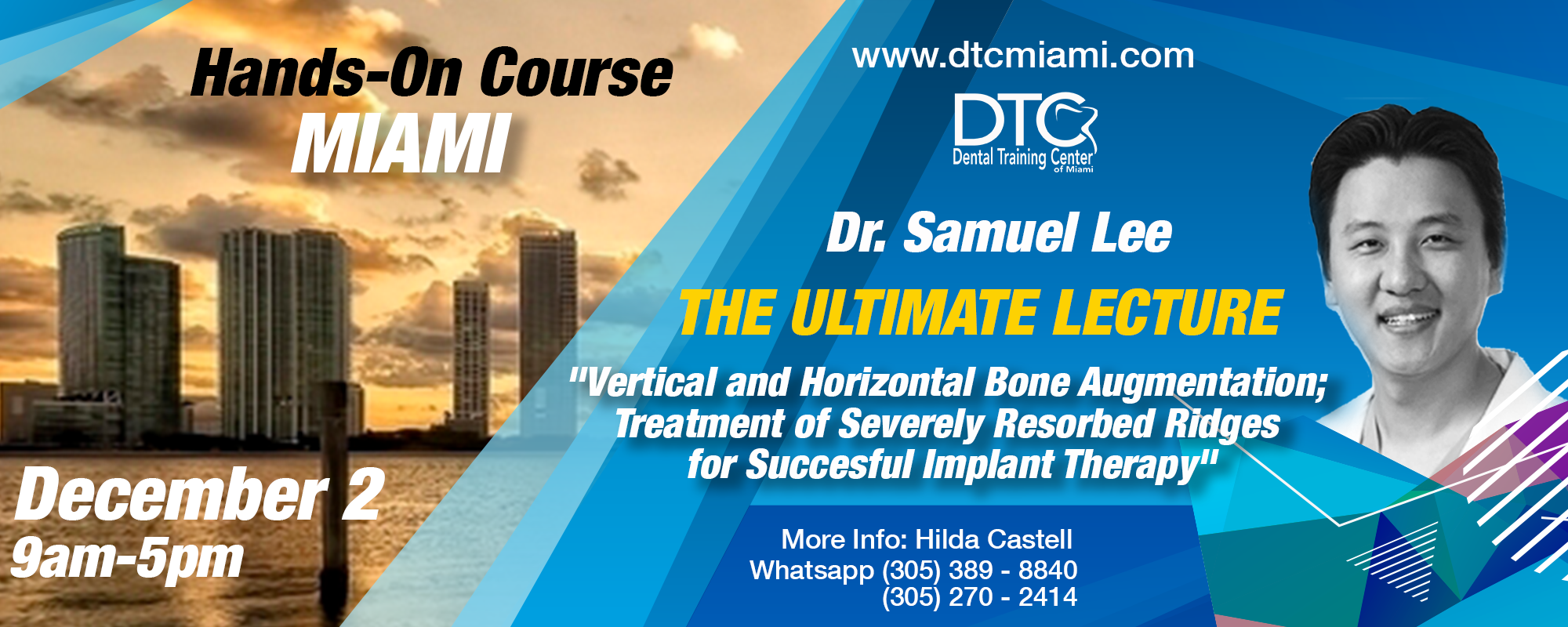 Vertical and Horizontal Bone Augmentation; Treatment of Severely Resorbed Ridges for Succesful Implant Therapy
Description:
Dental implant surgery is very predictable treatment.  However, it is very common to encounter severely resorbed ridges, which makes dental implant treatment difficult.  In this presentation, Dr. Lee will present many innovative options to overcome pneumatized sinus, thin ridges, and loss of vertical bone heights.
Diagnosis and guidelines for these treatment will be reviewed concisely.
– Diagnosis and treatment planning for Implant Treatment will be discussed.
– New sinus classification developed by Dr. Lee, which simplifies the treatment of pneumatized sinus will be discussed.
– Simplified GBR technique will be discussed
– New autogenous bone harvesting technique will be introduced.
– Easier mandibular ridge splitting technique will be introduced
– Biological modifiers will be discussed.
– Non-traumatic Nerve Lateralization Technique will be introduced
– Cases involving multidiscipline specialties will be presented.
Schedule
December 2, 2017
Dr. Samuel Lee is a Diplomate of International Academy of Dental Implantology. He is a graduate of Harvard School of Dental Medicine in specialty degree in Periodontology, and has earned his Doctor of Medical Science. He has invented ultra low dosage 3d imaging technique while at Harvard, and has obtained US patent.  Dr Lee grew up in California.  After completing his bachelor's degree in Microbiology and Molecular Genetics at UCLA, Dr. Samuel Lee furthered his studies in Dentistry from the UCLA School of Dentistry. He then practiced implant dentistry and orthodontics in a private practice in Buena Park, California.  He has won the 1st Award at many prestigious organization: The 2008 American Academy of Implant Dentistry (AAID) Table Clinic Presentation, the 2007 American Orthodontic Society (AOS), and the 2007 International Congress of Oral Implantologists(ICOI).   He is the inventor of "Crestal Window Sinus Grafting Technique," and owns the patent on his sinus instruments. He currently teaches internationally on his sinus techniques and TAD to specialists, general dentist, and dental schools.